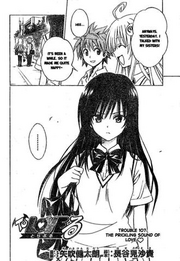 The Prickling Sound of Love is the one hundred and seventh chapter of To Love-Ru.
Summer is here and the school kids are wearing their summer uniforms. While Rito and Lala are talking and walking to school, Yui watches them from afar, seemingly out of jealousy. When she hears Haruna, Risa, and Mio talk about love, she wonders why students always talk about relationships and love. She meets Yami, who quotes a romantic book, a quote that makes Yui blush and think about Rito. She soon runs into Rito, where she learns that his dad is a mangaka, and she is relieved that Lala is not with Rito (which she questions why she feels that way). It starts to rain and Rito takes Yui somewhere dry (which turns out to be the playground inside of an enclosed monkeybar-like circle). After Rito gives her his handkerchief, Yui realizes that she is in love with Rito. Rito hears the principal coming and pins Yui down in a lewd position to keep her out of sight of the principal, but Yui thinks that he is trying to kiss (or possibly have sex with) her. After Rito tells her why he pinned her down, Yui, disappointed, hits him and calls him an idiot and storms off. Rito ends the chapter by saying that he does not understand Yui. Meanwhile, Momo and Nana finally make it to Earth.
Ad blocker interference detected!
Wikia is a free-to-use site that makes money from advertising. We have a modified experience for viewers using ad blockers

Wikia is not accessible if you've made further modifications. Remove the custom ad blocker rule(s) and the page will load as expected.